Chilling Movies Upcoming in 2018
1. A Nightmare On Elm Street
Freddy Krueger is making a return
No matter how hard we try, that pesky Freddy Krueger just won't die. That's because New Line Cinema is currently slaving away to make sure that our childhood nightmare comes back from the dead for a second time. 
It appears that the 2010 remake didn't go down as well with hardcore horror fans as hoped, so the studio is determined to try again by clawing our eyes out with a new reboot of the dream demon in 2018.
2. The Wolf Man
'The Wolf Man' may be the biggest horror movie 2018
Another classic monster that's also stirring from its slumber comes in the shape of Universal's The Wolf Man reboot. Set for release in 2018, the horror juggernaut sees Lawrence Talbot howling into the present day, uniting a number of monsters in a way that's very Marvel.
You might remember that Benicio del Toro played the character in the 2010 remake — here's the trailer:
3. Interview With The Vampire
Brad Pitt and Tom Cruise in the original movie
For the past few years, there's been a low hum regarding a possible re-adaptation of Anne Rice's The Vampire Chronicles. Now, it appears that a reboot of the 1994 movie is definitely in the works and it seems that Jared Leto might well be donning those infamous Lestat fangs in the leading role
4. The Invisible Man
'The Invisible Man' 
Universal is rumored to be bringing in Hollywood stalwart Johnny Depp to breathe life into another iconic character. The new feature will be a new take on the H.G. Wells masterpiece, centering on the nephew of the mentally unstable protagonist who terrorizes the countryside as an invisible killer.
5. The Predator
Prepare to be hunted down by another predator in 2018. Although there aren't many details surrounding the sequel to the 1987 sci-fi blockbuster quite yet, we do know that Iron Man 3 director Shane Black and Robocop 3 writer Fred Dekker are working on the ambitious project."The same sense of wonderment and newness that Close Encounters had when that came out. That's what we want. It's very impossible. But we're gonna try [...] It doesn't have to be 50 Predators riding motorcycles. It just has to feel like a powerful story that has a lot of flavours and textures."
6. Meg
Action star Jason Statham is making his way into the horror genre in 2018 after landing the leading role in Jon Turteltaub's Meg. Based on a novel by Steve Alten called Meg: A Novel of Deep Terror, it sees the British actor step into the shoes of former Naval Captain and expert deep sea diver Jonas Taylor and embark on what appears to be a suicide mission to the bottom of the ocean.
There, shit gets real as Statham collides with an enormous Megalodon, the largest marine predator that ever existed. 
7. The Third Wave
With a completely fresh perspective on the zombie genre, director David Freyne has recently cast actress Ellen Page in the main role in The Third Wave. Focusing on a time period following a zombie apocalypse in which many of the once-infected people have become shunned by society. This is a terrifying vision into a future society gone awry.
8. The Nun
'The Nun' is heading to cinemas in 2018 [Credit:Warner Bros. Pictures]
Release date: 13 July 2018 
Director: Corin Hardy
Cast: Demián Bichir, Taissa Farmiga, Bonnie Aarons 
Horror legend James Wan came out with The Conjuring 2 last June, which opened with tremendous success at the box office. Riding on that wave, the studio is now developing another spinoff about the demon nun character. 
Currently, it's still all hush-hush on The Nun front, but we do know that David Leslie Johnson (who wrote The Conjuring 2) is onboard to write the script, with James Wan returning to produce. Watch this space.
9. Abruptio
Another genre icon will also be appearing in an upcoming horror movie in 2018. Sid Haig will bring to life a puppet in Abruptio, the third feature film from Kerry and Evan Marlow. The thriller will follow the story of a guy who wakes up to find an explosive device implanted into his body. To stay alive, he must carry out horrendous crimes in order to find out who exactly is behind the strange series of events haunting him.
10. A QUIET PLACE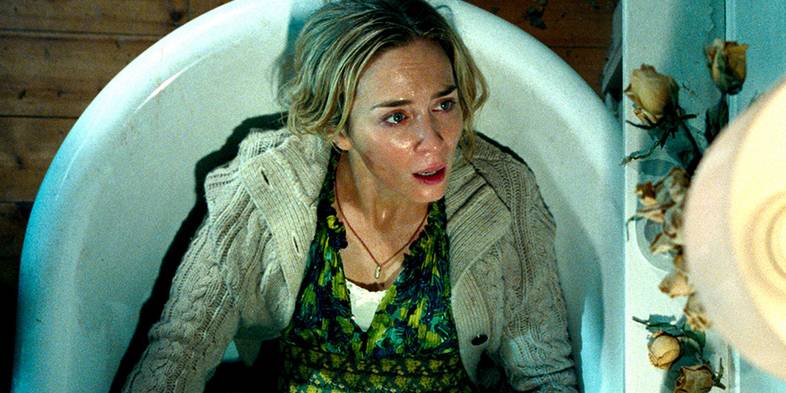 Horror movies are, by nature, kind of loud. Characters scream. Clanging noises are often used on the soundtrack to help create jump scares. There are sometimes weapons, like guns or chainsaws. For that reason, a horror movie that involves silence is a real rarity. Welcome to A Quiet Place.
John Krasinski directs and stars in the film, which he also co-wrote. He and real-life spouse Emily Blunt play a couple living with their family in an isolated location. Their lives are carried out in total silence because there's some kind of supernatural menace outside the walls of their home that pounces whenever it hears noise. Being quiet is the only way for them to survive. When one of them accidentally creates a loud sound… well, we'll just have to wait and see what happens when A Quiet Place opens in April.
Post by The Thoughts on 06/12/2017 - 17:47